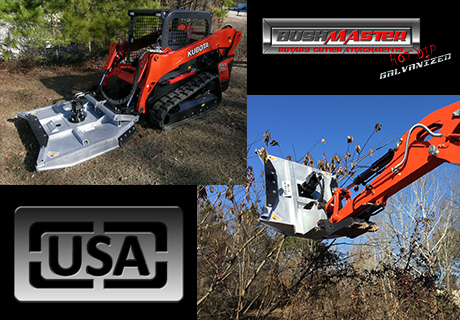 BushMaster Rotary Cutters are built tough and are ideal for heavy commercial use. 100% American Made right here in Northeast Alabama.
Looking for the toughest & most dependable rotary cutter attachment for your skid steer or mini-excavator? BushMaster has it! Call or Contact Us for more information today.
1 (800) 538-1780
They are specifically designed to fit almost any skid steer, mini-excavator, mini-track loader, and the like. All of our rotary cutters are hot-dip galvanized and driven by industrial-grade hydraulic motors.
Every motor we produce has a pressure seal with a #6 O-Ring Boss fitting port for the addition of an (optional) case drain. This makes our cutters the best choice for all-day work.
BushMaster Rotary Cutter Models