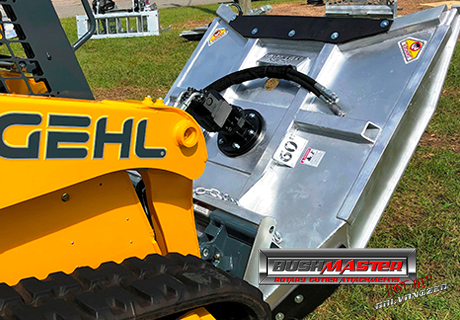 Our Blade Carrier is not round and it's incredibly strong!
This gives The DEVASTATOR MAXIMUM Cutting Efficiency to get the job done right…and FASTER!
Did You Know?
All of our BushMaster motors have hi-pressure seals and have a #6 O-Ring Boss fitting port for the addition of an (optional) case drain.
This makes our cutters perfect for heavy commercial use!
BushMaster SL601 Specifications:
Specification
Information
Cutting Width
72 in.
Cutting height)
0-3 in.
Cutting Capacity
5 in.
Cutting Direction
Bi-Directional
Hydraulic Minimum
21 gpm
Hydraulic Maximum
26 gpm
Weight
1,140 lbs.
Blade Carrier
Devastator*
Forged Blades
2
Vertical Cutting
Yes
Drive
Direct
Relief Valve Protection
Yes
Hot Dip Galvanized
Yes