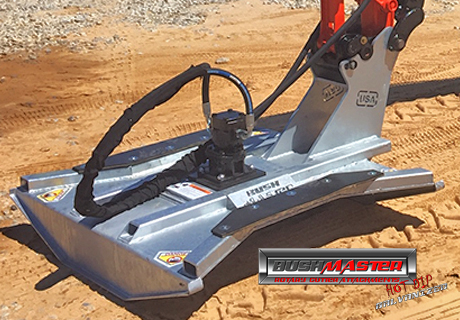 The Mini X Bushmaster creates a completely new market for your mini excavator. Hillsides that could only be reached with manual labor now can be cleared with your Mini X Bushmaster.
Bank mowing, trail management and landscaping maintenance are a few examples of ideal applications. This attachment will become as common as your bucket.
Did You Know?
All of our BushMaster motors have hi-pressure seals and have a #6 O-Ring Boss fitting port for the addition of an (optional) case drain. This makes our cutters perfect for heavy commercial use!
BushMaster MX401-42SL Specifications:
*Fits most 35/40 Class Mini Excavators, Track Hoes, etc.
Specification
Information
Cutting Width
42 in.
Cutting Capacity
3 in.
Cutting Direction
Bi-Directional
Weight
480 lbs.
Blade Carrier
Stump Jumper*
Deck
1/4″ Reinforced
Hot Dip Galvanized
Yes